hey everybody!
happy friday ;
good week?
i hope so. this weekend is suppose to be beautiful which means biking & garage sale-ing!
this week has been good.
dinner with new friends. blake is home for two weeks for spring break. spring cleaning. lots of things ready to go to goodwill. the grass is green.
also, i have a super-fun announcement this weekend!
i have been mostly indoors for the past two weeks baking // cooking up a storm & am getting SO excited to share it all.
this week :
earlier this week it was 80* but the lake was still frozen
30 mile bike ride!
testing out all the settings on my [still] new camera.
told you i have been baking a ton ;) [and can it be noted that my food photography skills are getting better?!?! ;)]
i have SEVEN new infinity // spring scarves for sale in the
shop
!
after a 10 hour day in the kitchen i rewarded myself with a big, ol' vegan root beer float!
and today we start round 2 of insanity!
thanks for reading!!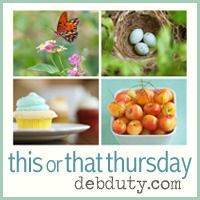 Hosted by Cecily and Lolli