plans for the weekend?!
i have a craft fair tomorrow ; and sunday is open.
our bikes are in the shop for a week [bike commuters with no bikes] & we miss them already.
last weekend [before we took our bikes in], we did a nice 25 mile ride into st. paul. blake had a non-veg truffle [i had a banana ;)], we window-shopped and went in and out of our favorite bookstores.
i got a *massive* package full of vegan goodies [ill share more at the end of the month ; its still a secret!]
*finally* a greek vegan yogurt!!! i have a hard time with most faux dairy products ; i dont like the 'fake' taste. but, we found these at whole foods & stocked up. both the blueberry & vanilla are delish!!
we had a couple weeks of crazy, warm temps here in minneapolis, but they are now settling into the 50* most days.
minnesota is known as 'the land of 10,000 lakes' [really, there are more like 14,000] we are so lucky to have such beautiful landscapes. we have 3 lakes within walking distance of our apartment. in a big city!! almost all of the lakes have paved bike & walking trails ; there are always so many people out. one of my favorite things about biking is seeing all the families & folks that are using the trails & being active.
a lot of the high-traffic lakes have separate biking & walking trails.
also, the bike trails are one-way, so it doesnt get too crowded.
sick in bed = beverly cleary books,
peppermint chest rub
, trail mix [really, its just dark chocolate chips, almonds and dried cranberries] & lots and lots of tissues.
happy weekend!!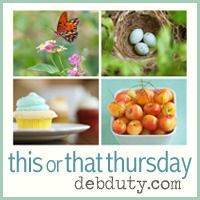 Hosted by Cecily and Lolli